MIAMI – August 15, 2023 – COMBATE GLOBAL has re-signed lightweight (155 pounds) Mixed Martial Arts (MMA) sensation, Cristian "Puas" Pérez (12-1), to a new, exclusive, multi-fight promotional agreement.
The 23-year-old Pérez, who boasts a 75 percent finish rate, is expected to return to action in La Jaula in October sometime.
"We are extremely proud of the way Cristian Pérez has developed as an MMA athlete since his professional debut and are excited to see him continue his career with COMBATE GLOBAL," said Mike Afromowitz, Sr. Vice President of Operations and Communications.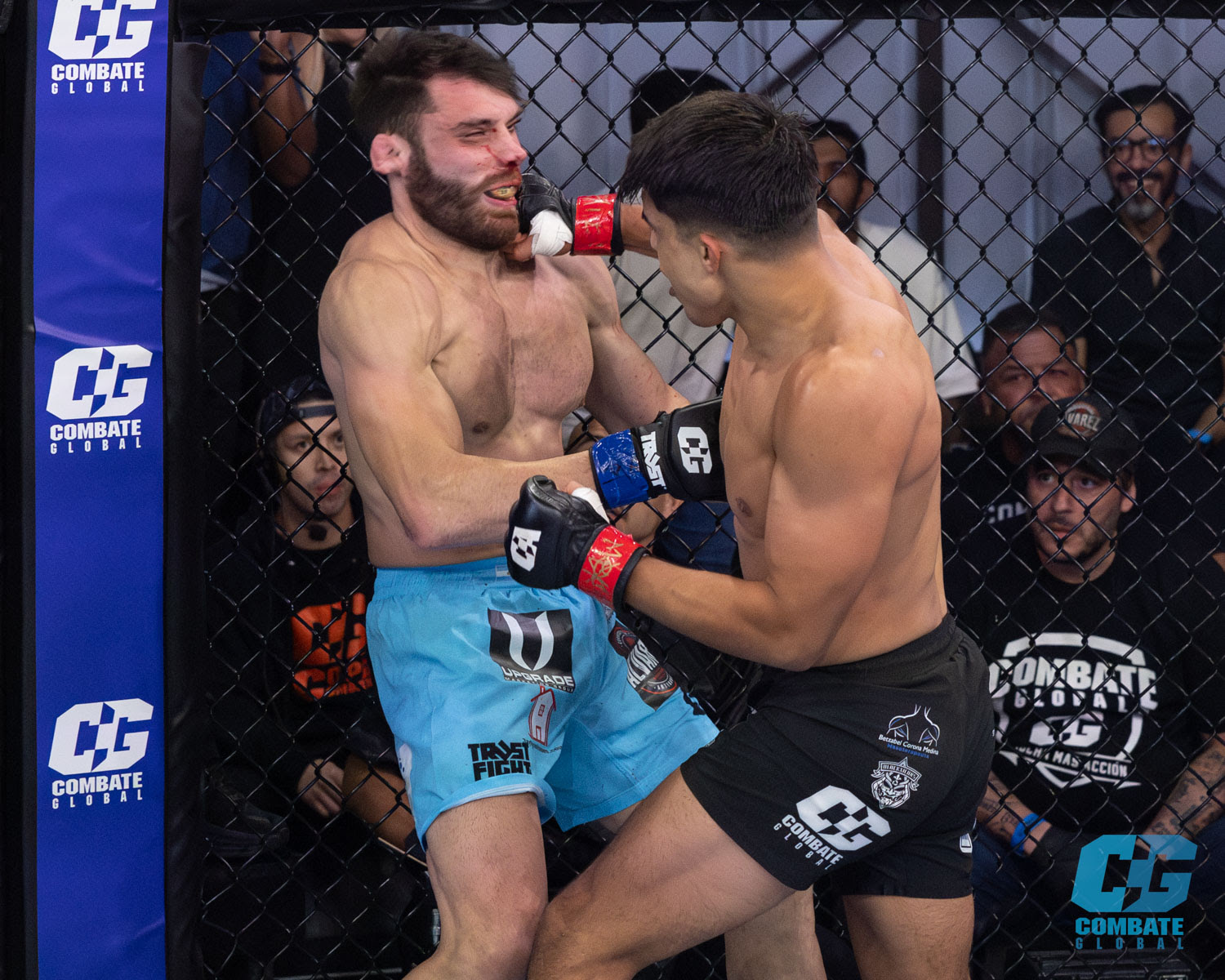 Above:  Pérez (right) took out his last opponent, Bruno "Aquiles" Cannetti (left), in less than 90 seconds.
Pérez is one of COMBATE GLOBAL's top homegrown stars, who has been competing exclusively for the company since he made his professional debut at 19 years of age on February 8, 2019.
On April 23, 2021, Pérez produced his quickest victory to date, submitting Geraldo Almonte with a heel hook in just 29 seconds.
Pérez's only loss, thus far, came on November 12, 2021 in the championship stage of a one-night, eight-man tournament, after he had already defeated two previous opponents – fellow Mexican Alfrego "Slayer" Ruelas via first round (2:49) TKO (punches) and Irish battler Patrick "The Leech" Lehane via unanimous decision.
An understandably exhausted Pérez faced off with U.S. star Enrique "Baby Bull" Gonzalez for the finish place finish in the tournament.  The two went the three-round distance of the fight before Gonzalez was awarded a unanimous decision.
Since the tournament effort, Pérez has reeled off four consecutive wins, the last three of which he produced by way of (T)KO or submission.
In his last start on June 18, Pérez toppled former COMBATE GLOBAL World Featherweight (145 pounds) Champion, Bruno "Aquiles" Cannetti via first round (1:26) TKO (punches).
Additional information about Combate Global and its athletes can be found on www.CombateGlobal.com as well as on Facebook, Instagram, Twitter and YouTube.